VOLA Round Series wint vier Plus X Awards
De VOLA Round Series heeft in het Duitse Düsseldorf vier Plus X Awards in de wacht gesleept.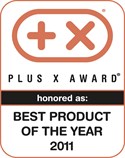 De Round Series won onder meer de prijs voor "Best Product of the Year 2011" in de categorie sanitair. Daarnaast werd de Round Series ook nog beloond met het Plus X kwaliteitszegel in de drie categorieën Innovation, Design en Functionality.
De 'Plus X Award – Prize for innovative Technologies, Sport and Lifestyle Products' wordt toegekend aan fabrikanten die oog hebben voor de kwalitatieve meerwaarde van hun producten. De Plus X Award hanteert bij de beoordeling volgende criteria: het product moet van de hoogste kwaliteit materialen gemaakt zijn, het moet een lange levensduur hebben, het moet functioneel zijn en het design moet zeer vernieuwend zijn. Er worden ook kwaliteitszegels toegekend in zeven categorieën: Innovation, High Quality, Design, Ease of Use, Functionality, Ergonomics and Ecology.

 
Plus X Award Hall of fame >>